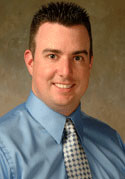 Kurt Bergeron, MSPT
Owner of Amherst Physical Therapy
kbergeron@amherstpt.com
Kurt earned his degree from Ithaca College School of Health Sciences and Human Performance, Ithaca New York. As an avid athlete in his youth, and a current fan of many of the area sports teams, Kurt found the lure of working with the human body hard to resist. After graduation, Kurt began his career in a large scale orthopedic outpatient clinic where he was mentored by a number of top quality physical therapists before himself becoming the manager of that facility just a few years after he began working there. Utilizing the opportunity to expand his learning through a wide variety of continuing education courses, Kurt quickly developed a strong interest in orthopedic assessments of the foot, shoulder, knee and spine.
Kurt treats orthopedics injuries using manual and traditional physical therapy modalities, while working with his patients to provide the highest level of function upon completion of treatment. Kurt started Amherst Physical Therapy in 2007, where he looks forward to supporting area athletes, and those seeking rehabilitation services. Kurt is a member of: APTA & Souhegan Valley Chamber of Commerce.
---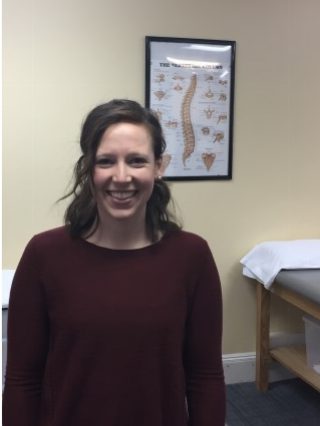 Alyssa Stuart, PT, DPT
Physical Therapist
alyssa@amherstpt.com
Alyssa graduated from Boston College in 2011 with a Bachelors of Science and attended Franklin Pierce University to graduate with a Doctorate of Physical Therapy in 2016. She has clinical experience in a variety of settings including skilled nursing facilities, pediatrics, wound care, and outpatient orthopedics. Born and raised in southern Maine, Alyssa has a love for the outdoors and enjoys hiking, camping, and skiing. Her interest in orthopedic rehabilitation stems from being an avid soccer player growing up and nursing several injuries with physical therapy.
Alyssa enjoys working with patients of all ages to optimize functional mobility and to reach her patient's own personal goals. She is certified in Graston Technique. Other skills include Kinesiology taping and manual therapy. She looks forward to providing each patient with compassionate and detailed care.
---
Fay S. King
Receptionist
fking@amherstpt.com
With many years of front office experience, Fay joined the Amherst team in June of 2016. She enjoys helping and interacting with patients. Our patients and staff enjoy her positive personality and radiant smile. Fay works with you to schedule treatments at the most convenient times for you. She lives in Amherst with her husband Doug and enjoys time with him and her family.
Feel free to contact Fay with any insurance or scheduling questions.